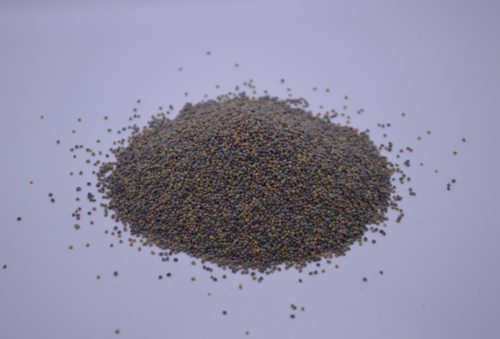 Aberlasting Kura/White Clover- Nitro Coat OMRI
Bulk Discount Pricing
10 - 19 lbs.
$13.00 / lb.
20 - 29 lbs.
$11.38 / lb.
Use
White clover is a very persistent, perennial legume with a sod forming canopy generally 8-12" in height. This clover is best utilized as a living cover grown under perennial fruit production canopies. Flowering occurs throughout much of the growing season which are commonly utilized by pollinators. White clover is a very important pasture legume, commonly grown in mixtures with perennial grasses. As an excellent forage source that is both highly palatable and digestible, white clover can provide an excellent 12-23% CP value to a forage.
Nitrogen Fixing Potential
10 / 80-200
Root Type
Shallow Tap root
*Based on a 1-10 scale. 1 = Poor : 5 = Average : 10 = Excellent
Advantages
Excellent stand persistence is achieved through reliable reseeding as well as through the spread of stolons. The sprawling stolons stabilize the soil surface with roots and thick residue which leads to successfully reducing erosion. White clover is such a great fit as a living cover under orchards and vineyards because it can withstand high traffic areas, supplies pollinator species with an additional food source, maintains a low canopy and withstands being mowed within 2". This species contributes 45% of its N production within its roots, which is higher than most commonly utilized legume cover crop species.
*Based on a 1-10 scale. 1 = Poor : 5 = Average : 10 = Excellent
Disadvantages
Though its forage quality is excellent there's a moderate-high bloat risk associated with white clover forage. To reduce the risk of bloat, white clover should only be 40% of the available forage. Once established, white clover can be a very serious weed concern in cash crops because herbicide effectiveness is quite variable due to the environmental conditions and this species natural tolerance. White clover has a weak rooting system consisting of stolons and sparse fibrous roots within the top 18-24" and a small taproot reaching 3' in depth. Shallow roots are what limits white clovers ability to survive droughty soil conditions. White clover is very susceptible to nematodes and root-rots, which can also lead to issues for some future cash crops.
Potential Insect/Nematode Risk
5
*Based on a 1-10 scale. 1 = Poor : 5 = Average : 10 = Excellent
Planting
Best establishment is achieved by fall seeding 40 days before first killing frost. This allows for the cool and moist conditions, common in the fall, to meet the moisture and root development requirements which are critical to achieve a good stand. Emergence occurs within 7-10 days and a slow establishment can be expected. White clover can be easily frost seeded into pastures from November-March. It's suggested to spread the seed during the morning while the frost is still present and sow to the seed early enough in the year to insure a couple freeze-thaw cycles. If overseeding into a grass sod apply 2-3 lbs/A and establishment success will be improved in low N environments because grass competition will be limited. Interseeding into a cash crop can be easily achieved but initial growth will be limited mostly to root development until more sunlight becomes available after crop removal. Once white clover is established, it will commonly continue to flourish with stolon expansion and its high reseeding potential.
Ideal Planting Time
September - October
Ideal Planting Depth
1/4 - 1/2"
Min Germination Temp(F)
40
Drilled Seeding Rate (lb./A)
3-9
Broadcast Seeding Rate (lb./A)
5-14
Tolerance
White clover has the ability to tolerate low fertility soils better than most other clovers but will preform best under fertile soil conditions. This species can tolerate a lower pH better than red clover and alfalfa but has less tolerance for basic soils than most other legumes. Ideal growing conditions are in cool, wet environments ranging from 50-85 F, with loam to clay loam soils. Well suited for wet bottom soils, white clovers struggles to produce growth in hot, dry environments due to its shallow root system. White clover displays excellent winter hardiness and shade tolerance but soil salinity won't be tolerated.
*Based on a 1-10 scale. 1 = Poor : 5 = Average : 10 = Excellent