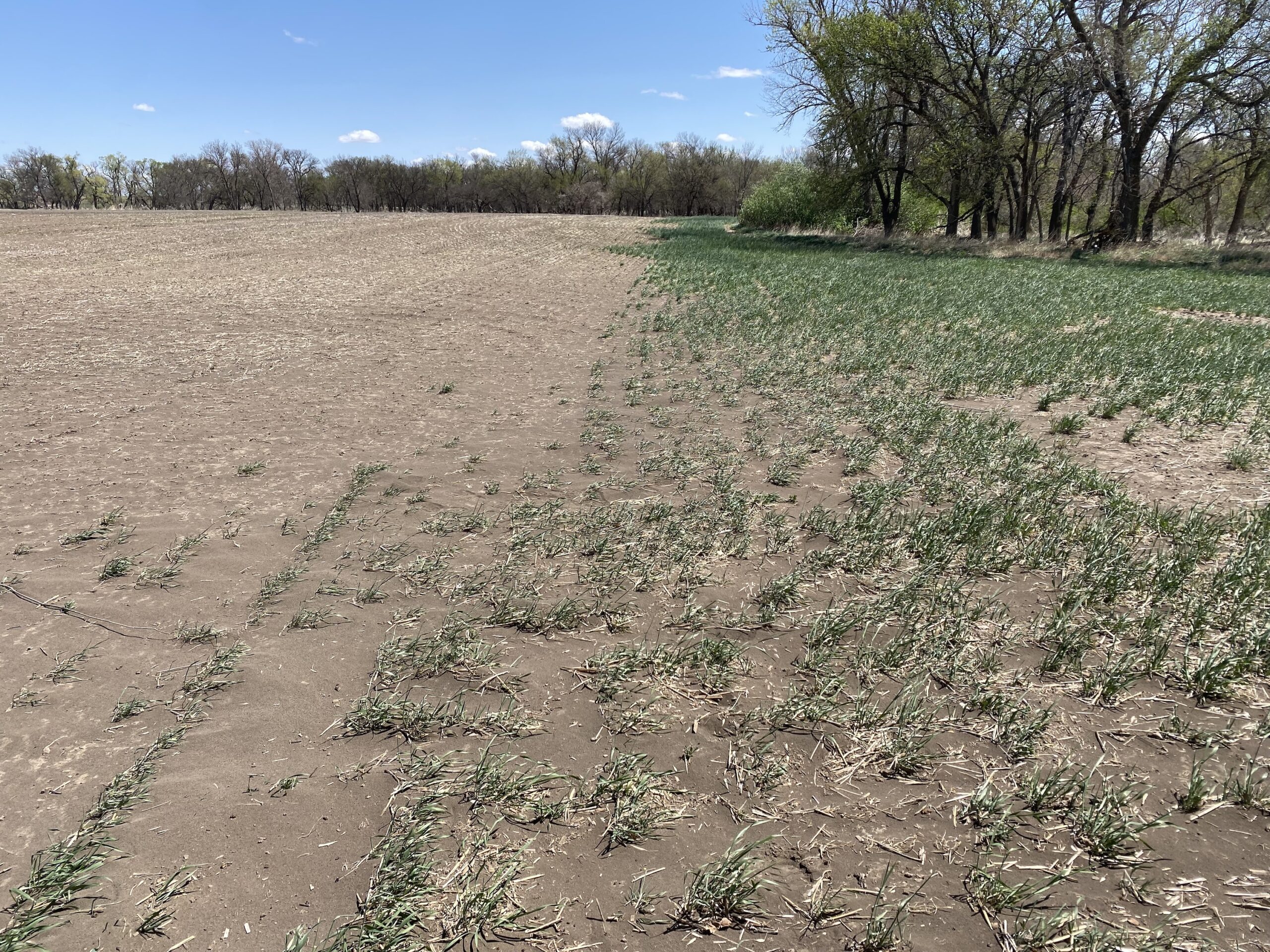 The image above is a side by side demonstration of the advantages of having residue and living roots, even when the crop stand is spotty.
Some background on these pictures: This is a creek bottom of ours and looking left to right is North to South. Along the creek on the right is Fall Release, planted 8/26, with about 2″ of rain last fall before it went dormant. Rye is the only species that survived the winter and is spotty. The left side is oats that were planted last spring, harvested and then chem fallowed and planted to oats again this spring. The oats are starting to peak out of the ground but are spotty due to lack of moisture. You can see in the picture that wind erosion has taken place and the oats have actually been blown out of the ground.
A few things I took away from taking this photo:
Any living root you have in the soil is going to make a difference, even if the plant is small and the stand is spotty. The rye was able to stop the blowing dirt even though it was only 4-6 inches tall and thin.
This area is relatively protected from wind and the difference in wind erosion was very clear between the side without living roots (left) and the side with living roots (right). Imagine what this would look like in a more exposed area and the difference that a small rye crop planted in the fall could make.
It's important to leave as much residue as possible. Yes, the oats were used for hay and tonnage is important, but what would it have looked like if we had raised the cutter bar a couple of inches?
The growing rye received maybe 3-4″ of moisture including snow through the winter. Most of the winter was open. It does not take corn belt moisture or soil to make a difference in soil health.
When growers are making decisions on what to do with their failed cereal crop, it may be a good idea to leave the failed crop in the ground to keep growing. The remaining roots could save their soils from blowing away due to wind erosion.  Remember, soil particles are tiny and do not need large trees to keep them from blowing. Even small roots in the ground will make a big difference.
For more ideas on what to do with a failed cereal crop, watch one of our recent webinars with Keith Berns, Scott Ravenkamp and Jimmy Emmons.