Keith Berns
Green Cover Co-Owner and Sales and Marketing Manager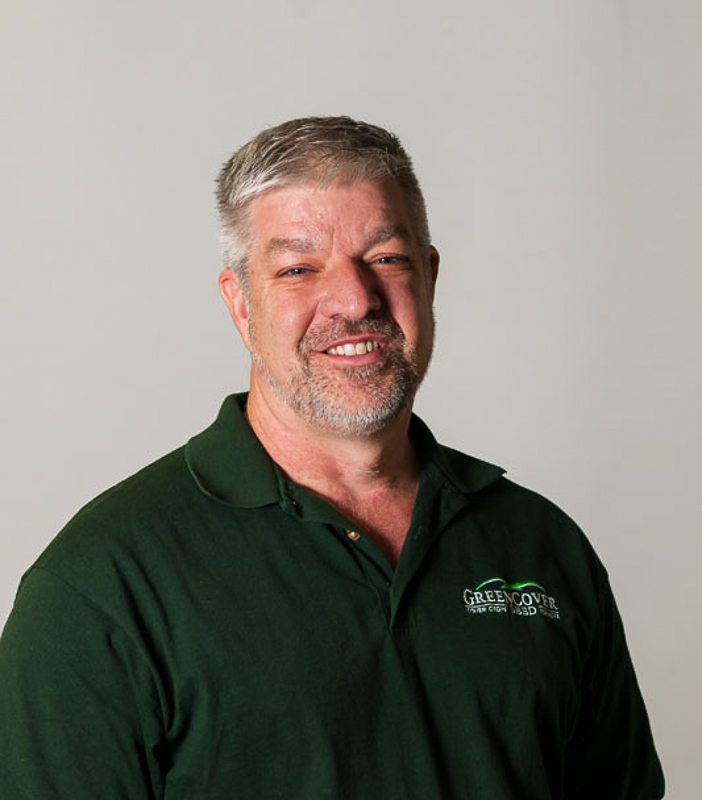 KEITH BERNS
Co-Owner / Sales and Marketing Manager
Keith Berns combines over 25 years of no-till farming with 10 years of teaching Agriculture and Computers. In addition to no-tilling 2,500 acres of irrigated and dryland corn, soybeans, rye, triticale, peas, sunflowers, and buckwheat in South Central Nebraska, he also co-owns and operates Green Cover Seed, one of the major cover crop seed providers and educators in the United States. Through Green Cover Seed, Keith has experimented with over 120 different cover crop types and hundreds of mixes planted into various situations and has learned a great deal about cover crop growth, nitrogen fixation, moisture usage, and grazing utilization of cover crops.
Keith was honored by the White House as a 2016 Champion of Change for Sustainable and Climate-Smart Agriculture. Keith also developed the SmartMix CalculatorTM one of the most widely used cover crop selection tools on the internet. Keith has a Masters Degree in Agricultural Education from the University of Nebraska and teaches on cover crops and soil health more than 30 times per year to various groups and audiences. Keith also was appointed by Nebraska Governor Pete Ricketts to be part of the Nebraska Healthy Soils Task Force and had the privilege of serving as the chairman.
He enjoys spending time with his beautiful wife Audrey and their 7 children and their families, including the 11 grandkids!
Favorite Sports Team & Why? The Huskers of course! I grew up watching them and they had some great years while I was in college and was able to attend all the games and have many great memories. I think a big part of it is the respect that I have for Coach Tom Osborne – and now Coach Scott Frost and how their faith is such a big part of their life and their coaching.
What's something interesting about you?
My wife Audrey and I have had children in 4 different decades: 1980's, 1990's, 2000's and 2010's
What do you bring to the table? Generally a good fork and spoon – and a knife as needed for when we have steaks!
How would you describe our company culture? I like to think of it as extended family – good people I enjoy being with and that I can count on.
If the world was about to end you would? Relax as I know that I would soon be in the presence of Jesus and all would be well soon…
Keith Berns Speaking Topics
Carbonomics – The Amazing Economy of the Soil
Sometimes the best way to understand a complex system is to compare it to other systems that we already understand. Green Cover Seed co-founder, Keith Berns, does just that in his Carbonomics presentation where he compares the economy of a country to the underground economy of the soil.  Learn how principles like supply, demand, currency, capital and infrastructure all apply to the soils under our feet and how a properly functioning soil system is a powerful and robust economic system. After this presentation you will have a better understanding of how carbon is the currency that plants use to purchase goods and services from the biological community.
Rebuilding Our Soils – a task of Biblical proportion!
A look at the challenges ahead for agriculture and conservation organizations as the soil health movement goes forward. The history of the Conservation movement is traced from the causes of the Dust Bowl to the formation of the Soil Conservation Districts.  This talk compares rebuilding our degraded soils to Nehemiah rebuilding the walls of Jerusalem in Old Testament times and draws three important parallels that are just as applicable today as they were 2,500 years ago, specifically  the right leaders, the right workers and the right tools.
Seven Things I have Learned About Cover Crops:  
A good general talk on cover crops and how they benefit the soil.  Lots of pictures and examples from our own farm and experience are used.    
Cover Crop Species Overview
I can also talk for a 1-2 hours just showing pictures and talking pros and cons of about 75 different cover crop species – when, where and how to use them….
How to Design Cover Crop Mixes for Improving Soil Health
Covers the importance of cover crop diversity and discusses the questions that need to be answered to properly design the best cover crop mix possible.  A discussion and demonstration of the Smartmix Calculator Tool is also included
Best practices for cover cropping with Keith Berns, Co-Founder of Green Cover Seeds | Regen Rev 2022

Our SmartMix calculator creates a custom cover crop mix that's just right for your field. With easy-to-use educational resources, we help you identify the strengths and weaknesses of your selections and craft a mix that will serve you well.
Start Mixing