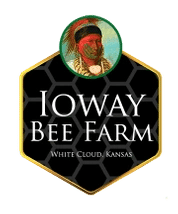 Death of Bees Inspires Regenerative Renaissance
By Sophie Waechter-Cass
Chairman Timothy Rhodd, passionate soil health advocate, is leading a regenerative renaissance as the Iowa Tribe of Kansas and Nebraska works collectively towards healing the land and its people. The Iowa Tribe of Kansas and Nebraska Reservation consists of 12,000 acres across portions of Brown County and Doniphan County in Northeast Kansas and Richardson County in Southeast Nebraska. Currently, the Iowa Tribe controls approximately 6,000 acres with most of the land now held in trust after conscious efforts to reclaim lands previously owned by non-Tribal members. Rhodd said one of the great turning points for himself and other tribal members happened when an elder asked to place bee hives on tribal lands. When the hives were placed on those lands, the bees died because of chemical spraying in the adjacent corn fields.
     This event inspired strong reflection on the type of agriculture which was taking place on Iowa tribal lands. If this type of farming was killing the bees, what was it doing to the people? To the soil? To the water? A large portion of the reservation lands are not actually owned or managed by Tribal members and are farmed conventionally, using heavy synthetic and chemical inputs. Testing on drinking water revealed dangerously high nitrate levels, which has been connected to negative impacts on human health. Since the bee incident, the Tribe has replaced the hives, and the Executive Committee, led by Timothy Rodd, has collectively decided to transition to regenerative practices with an emphasis on soil health, increasing biodiversity, holistic livestock integration, and decreased chemical inputs. This year is the first year that they are fully regenerative across all acreage. The Tribe continues to buy back land, transitioning that land to regenerative practices with the goal of mimicking nature as closely as possible.
     Extensive, baseline soil testing was done to gain context on the state of the soil after years of conventional farming. Then, an aggressive approach was taken to regain control of more land and transition all acres managed by the tribe to regenerative farming. Today, 14 separate entities are managed by Grey Snow Management Solutions, LLC, an enterprise wholly owned by the Iowa Tribe of Kansas and Nebraska and chartered under Tribal law. All farmed acres are under regenerative management and each enterprise is connected to others in unique ways. For example, laying hens follow rotationally grazed cattle to help with insect pressure. Before extracting honey from the beehives at Ioway Bee Farm, smoke from regeneratively grown Soje hemp is used to calm the bees. Alfalfa, millet and brome are cultivated as forage crops by Iowa Farm to support Iowa Cattle Company. Incorporating diversity increases resiliency in both the financial viability of farming enterprises as well as building natural resiliency on the regeneratively farmed lands, which aim to mimic natural ecosystems.
    The fatality of the bees as well as other concerns for the health of the land, the water and the people, ignited an educational journey. As Rhodd started to learn more about soil health and regenerative agriculture, he saw much overlap with Indigenous agricultural practices. The process required unlearning what had been taught in boarding schools, where Indigenous children were taught to assimilate into Euro-American culture which meant learning conventional agricultural methods that were popularized after WWII. In many ways, the revival of regenerative practices on Iowa Tribal lands is a healing process for the soil, the water, the animals and the people. Although profit is necessary to continue operations, the ultimate goal and focus for the Iowa people is to regenerate the community and to ensure that rural Tribal citizens have access to healthy food and water through achieving food sovereignty. The Iowa Tribe aims to be a leader for other tribes and other people who wish to improve the health of their people, their water and their lands through creating and managing regenerative, resilient systems. There are plans to open a school of types in hopes of doing training and education on or near the reservation. The school will teach how to heal the lands, heal the water and farm in a responsible way.